Smart technologies available for every community
Even a small municipality can think big
Introduce the Internet of Things and become a smarter municipality. Even without much effort and expense. The Internet of Things (IoT) saves millions of people around the world.
Smart services for your municipality
Mobile applications for smart citizens
Connect to the Internet of Things in the easiest way - with your smartphone. Download the Sencito mobile application to your phone and have a perfect overview of everything you are interested in: current weather, the level of a flooded river or an unexpected power cut.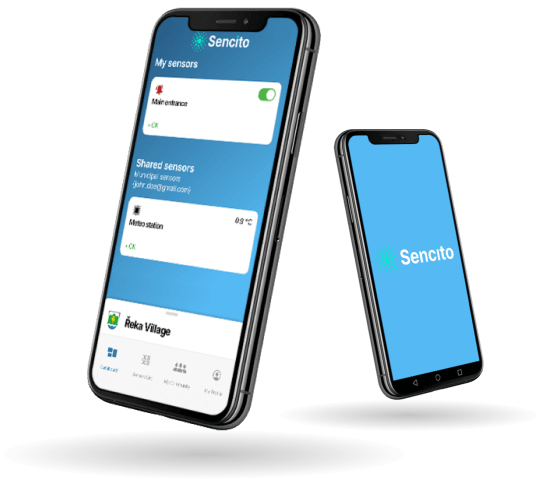 Why a smart municipal network from us
ONLY
affordable and demanding solution for all municipalities from 100 to 5000 inhabitants
COMPLETE PACKAGE
from sensors to a mobile application for the most efficient Internet of Things in the municipality
100% QUALITY
equipment and systems that we manufacture and manage in the Czech Republic ourselves
Frequently asked questions
What do we need to do to get the Internet of Things network up and running in our municipalty?
Just set aside 2 hours of time for our technicians to set up your IoT network. In practice we place a modem-sized transmitter on a municipal building, which has a range of about 2 km in urban areas and up to about 10 km in open space.
Can the sensor be connected to another network for the Internet of Things?
Never. Our sensors are preconfigured for installation in our network.
Who installs the sensors?
You can connect most of the sensors yourself. We have created a detailed step-by-step guide for you. Even without IT knowledge. Exceptions are sensors for remote energy meter readings - these are always connected by our technicians.
Is the data from the sensors sufficiently protected?
Yes, all data is safe. We use encrypted connections so that the data cannot be eavesdropped on, altered, or otherwise misused.
Does the municipality have access to data from private sensors in my home?
No. Neither the municipality nor anyone else has access to data from citizens' private sensors. The same is true the other way around. The citizen does not see the data from the municipal sensors, unless the municipality makes it available to him, for example, on the municipal dashboard.
How long do the batteries last in the sensors?
The battery in the sensors can even last 5 years. But it depends on the amount of data sent. The first batteries are part of the sensor package; others can be purchased in our e-shop.
What other services can be developed through Smarter Communities?
You can easily expand our solution with other smart services - for example, a smart car park, which remotely displays current vacancies, touch office boards and smart camera systems.
Being a smarter municipality with Sencito pays off
You will reduce costs and save the municipal budget
You will increase the safety and health of citizens
You will improve the information and involvement of citizens
You gain control over the status of the things you manage
Make your decision and problem solving easier
Become a smarter municipality with Sencito
We have data from field and case studies of municipalities similar to yours. We will give you an insight into them. Contact us so we can discuss it in person.
Take advantage of the Internet of Things at home
All you need is a sensor and you can connect to the IoT network for free from your home. Find out if this network is also available in your community. Send us an e-mail, we will write to you.